Kim & Kimmy - Large Swim Pants, 9 - 14kg, Qty 15
Regular price
Sale price
31.90 SAR
Unit price
per
Sale
Sold out
Introducing the Ultimate Swim Diaper: Dive Into Comfort, Keep Surprises at Bay! 🌊👶

Want Your Little One to Splash Around Unrestrictedly, Free of Worry and Full of Giggles?
That's a Yes, Please!
Our Swim-Ready Diapers are Here to Make a Wave!
 This is the definitive Swim Diaper that smart parents pick when they want ZERO Mishaps, ZERO Discomfort, ensuring their little mermaid or merman enjoys their water adventure, Day or Sunset! ☀️🌅
Crafted with Eco-Conscious 🌱 (FSC Certified) Supremely Soft Pulp, Sourced from the United States, and Combined with Premium Japanese Absorbent Polymers, Our Swim Diapers are the Best of Both Worlds.
Introducing a global sensation.
These Swim Diapers are a masterpiece, offering not just superior function, but an exceptional feel, a delightful comfort, and a charming look.
They keep your baby Comfortable, Free of Mishaps, and Ready to Explore ALL Day (And Sunset) Long!
This is the way to SAVOR SUMMER! 👏 👏 👏
So, to summarize...
Is your baby ready to dive into fun and frolic, or are unexpected accidents keeping them ashore?
Give Kim & Kimmy a whirl and if you don't notice a sea change, we'll give you a full refund. No questions asked.

"I can see my baby enjoying the water like a little fish..."
Here's the Splash 🌊 on What YOU Need to Know:
✅ You'll Get an Unbelievably Soft Swim Diaper (This means NO rashes)
✅ You'll Get a Pant with Extra Soft Bubble Band that WON'T Swell in Water! 
✅ You'll Get an Unbelievably Flexible Swim Diaper (This means NO plasticky feeling and also SUPER Easy On and Off)
✅ You'll Get a Responsibly Sourced Swim Diaper (FSC certified) – Help the Planet.. And protect your baby from discomfort one swim pant at a time!
✅ You'll Get a Cruelty-Free AND Vegan Swim Diaper! (Certified by PETA)
✅ You'll Get to Choose From Four Exclusive, Hand-Crafted LIMITED Designs. (Our designers have spent months creating these stunning prints)
✅ You'll Get a Sleek, Swim-Ready Diaper, so Your Baby can Splash and Play All Day, Without Any Compromises!
⏰ They're making a big splash and moving fast 🔥 - Get them while they're still available!
Find the perfect size for your little one.
Share
Order your Kim & Kimmy now - We do next-day delivery for orders placed before 12PM.
Sustainably sourced fluff pulp, Super Absorbent Polymer (SAP), Leg cuff nonwoven, Back sheet Nonwoven, Back sheet Film, Top sheet Nonwoven, Wrapper Nonwoven, Front tape, Velcro side tapes, Waist Band-Elastic, Leg elastic, Leak guard elastic
Unfold a clean nappy and slide the back half, where the folded sticky tabs are, under your baby. Pull the front half of the nappy up to your baby's tummy. Make sure that the part of the nappy between your baby's legs is spread wide. If it's bunched up, it may chafe your baby and make them uncomfortable. Fasten the nappy by unfolding one of the tabs, pulling it across your baby's tummy, and sticking it down. Repeat this with the other tab. The nappy should be snug, but not so tight that it pinches.
Cruelty Free
Vegan
Latex Free
Fragrance Free
Wetness Indicator
If you are not satisfied with Kim & Kimmy products returns are accepted within 5 days of your order date. After we receive your returned items, we will process your refund onto your original form of payment.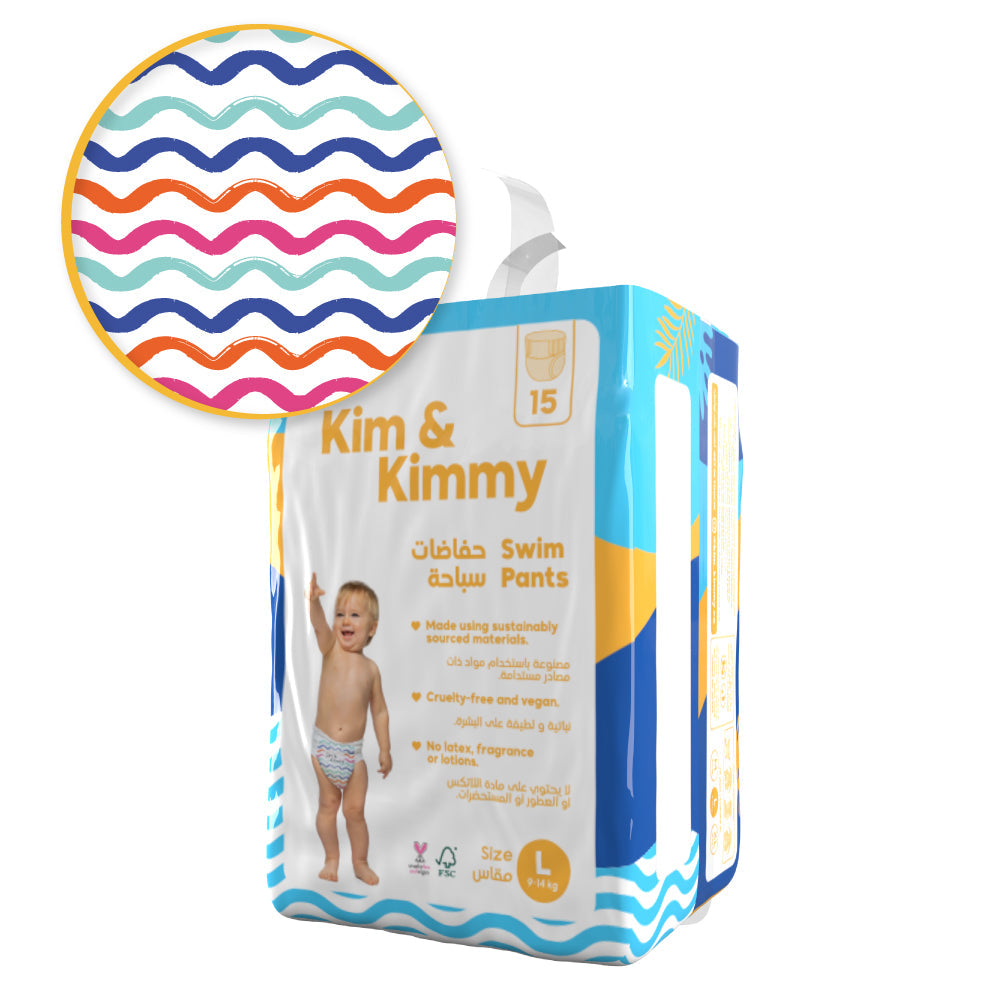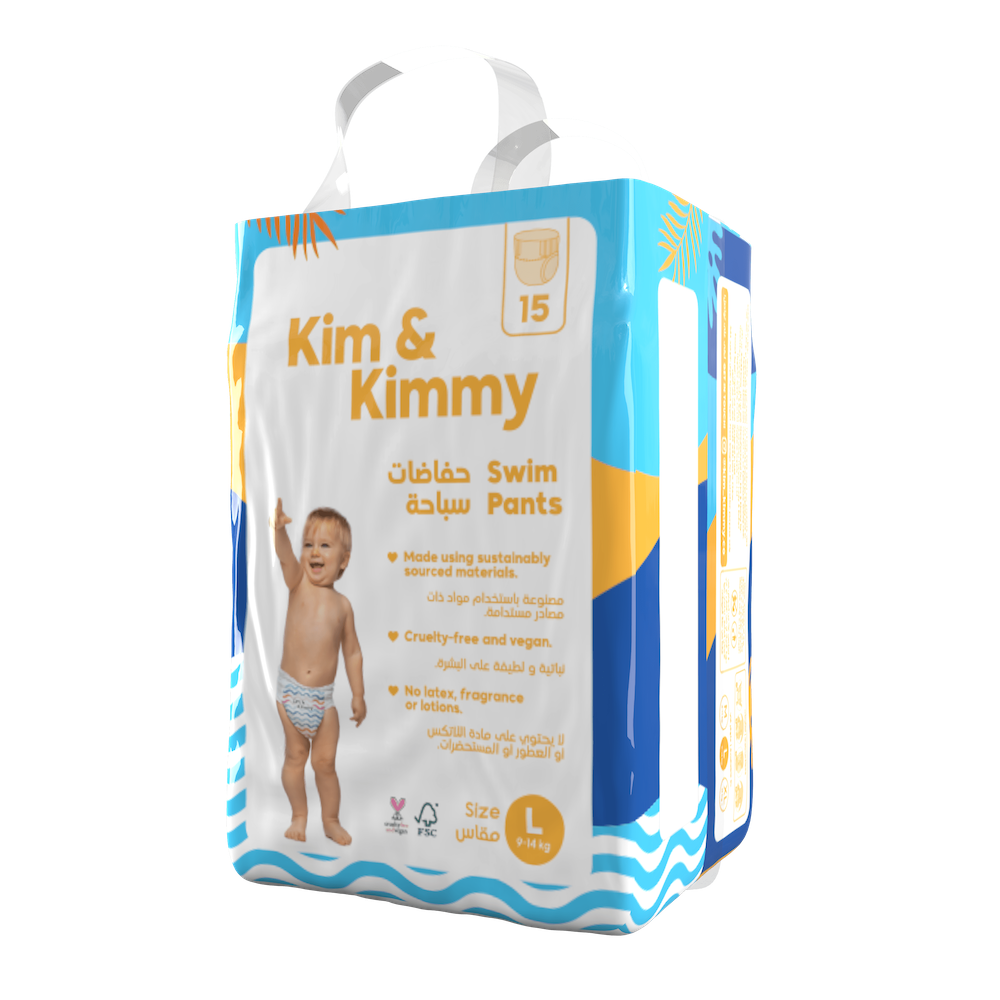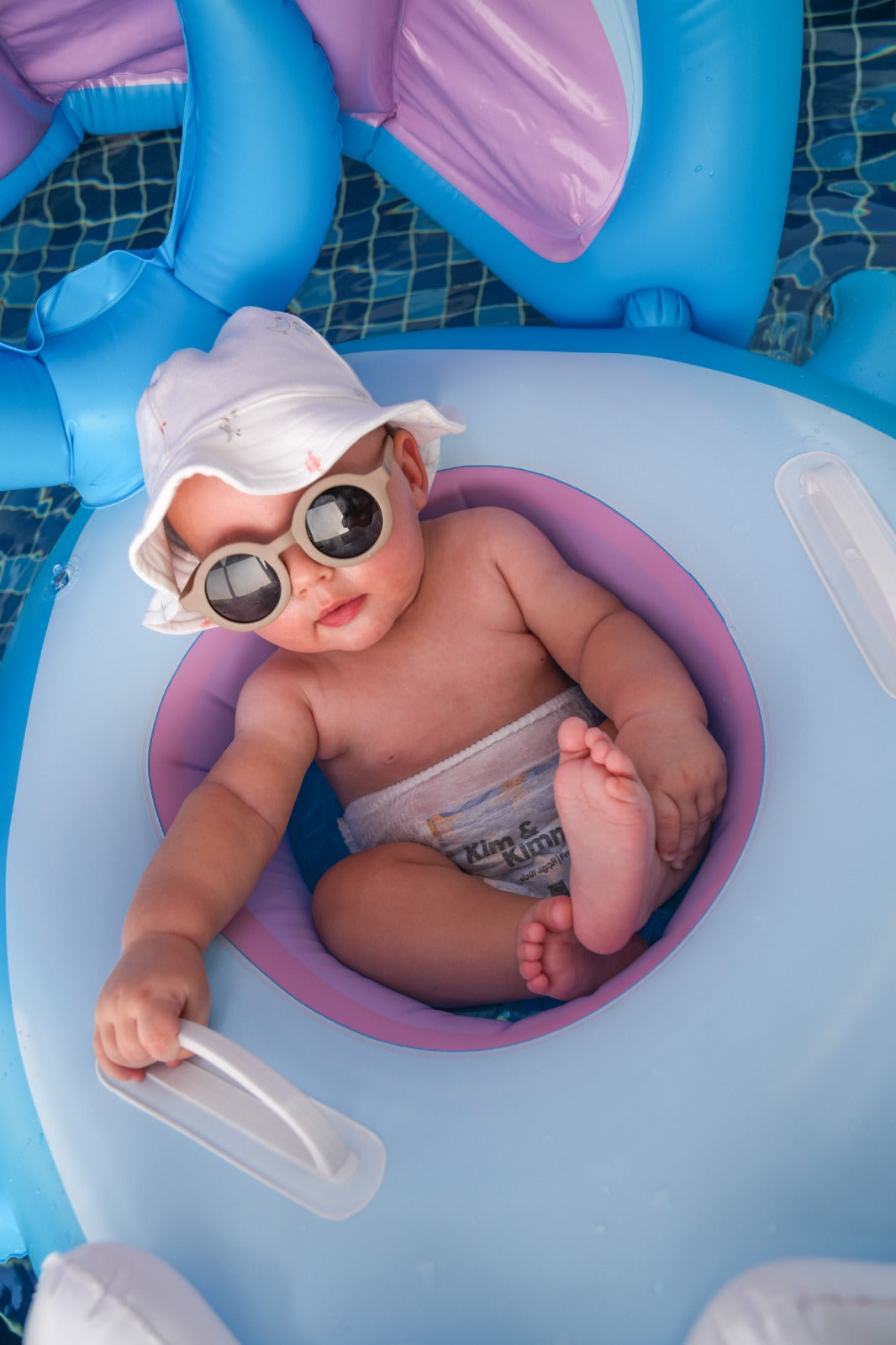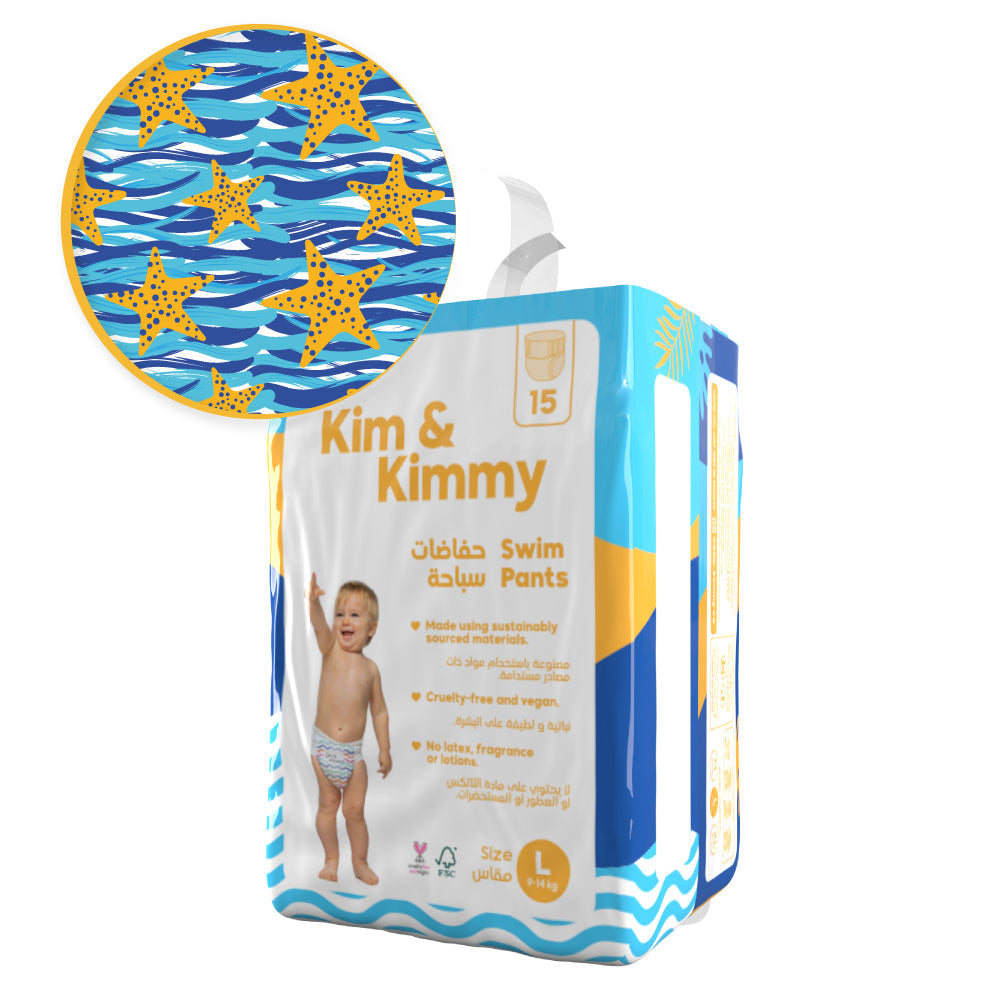 The diaper that does its job
No leaks - No rashes - Ultra-thin & Ultra-Absorbant and Absolutely no nasties.
No Leaks

Unique & proprietary 3D absorbency technology to guarantee that, tonight, there's no leaks.

No Rashes

Kim & Kimmy diapers have absolutely NO nasties (certified by local and international authorities) and incredibly soft.

Jaw-dropping prints

We've collaborated with professional designers to hand-craft each of our diaper designs.

Get them tomorrow

Order your Kim & Kimmy now - We do next-day delivery for orders placed before 12PM.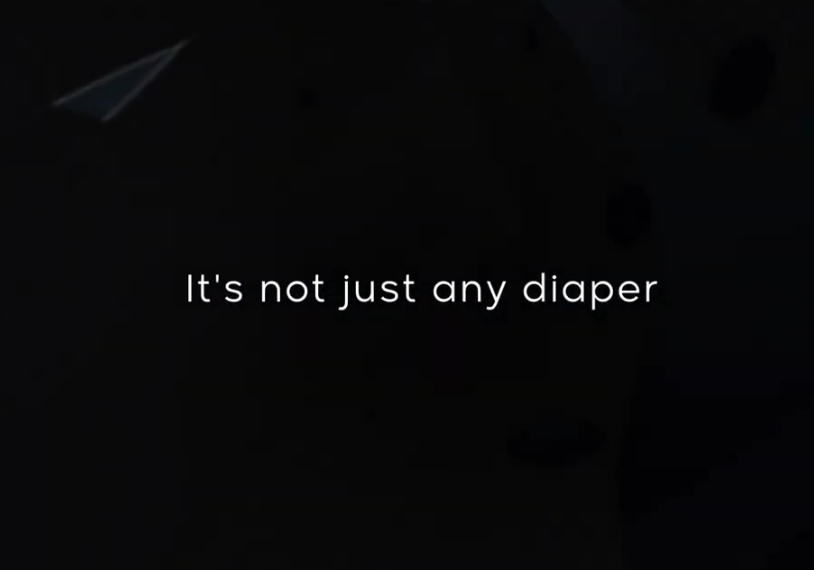 Stylish diapers that catch a lot more than compliments!
Your parenting best friends to get you out of all sticky situations come in 5 different hand-crafted prints. Check our print and size guide here.